The Most Deployed Product Suite in the EPC Industry.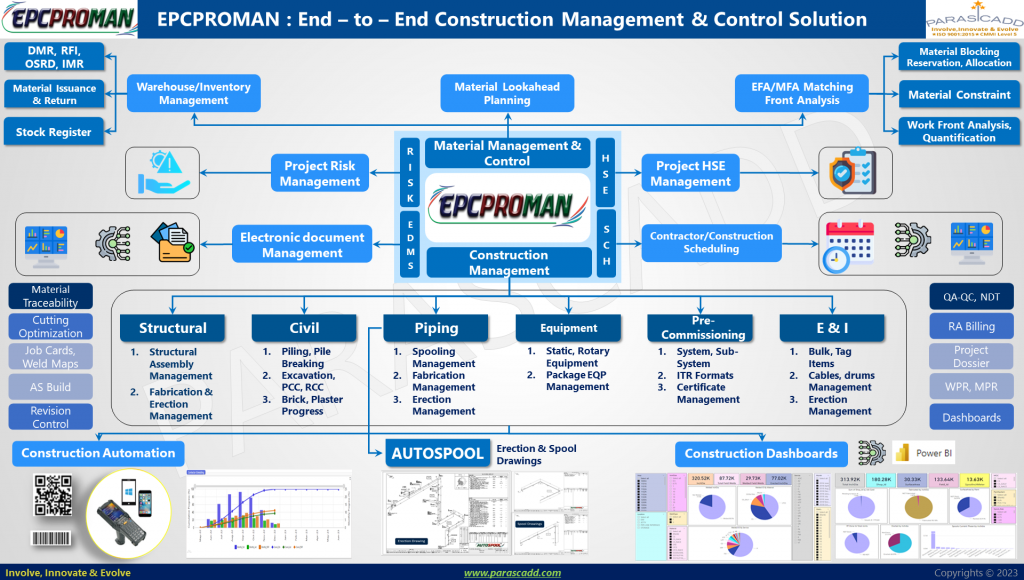 EPCPROMAN suite is an integrated EPC project management and project control software for sectors such as Oil and Gas, Petrochemicals, Manufacturing & Construction, etc.
EPCPROMAN is a EPC Planning and EPC Construction Management Software widely used in disciplines like Piping, Civil, Structural, Electrical and Instrumentation, Equipment to manage the project functions like Engineering / Ordering / Tendering / Manufacturing and Delivery / Construction / Commissioning where these disciplines and functions are managing by the agencies such as Piping and Steel Fabricators, EPC and LSTK contractors, Owners and Operators, PMC's involved in jobs related with Offshore / Onshore Petrochemicals, Ship Building, Oil and Gas Refineries, Power Plants, Breweries, Renewable Energies etc.
EPCPROMAN software is designed in an innovative way and aimed for a continuous improvement by upgrading on timely basis to meet the demand of newer industrial work practices. This EPC software helps the organisational people to talk in a way that understands by everyone and helps them to see the problems before the happening and find the right way to achieve the success.
EPCPROMAN provides great benefits to all the stake holders
Download a Whitepaper to know.
Download EPCPROMAN Brochure